Featured
This item was featured by our team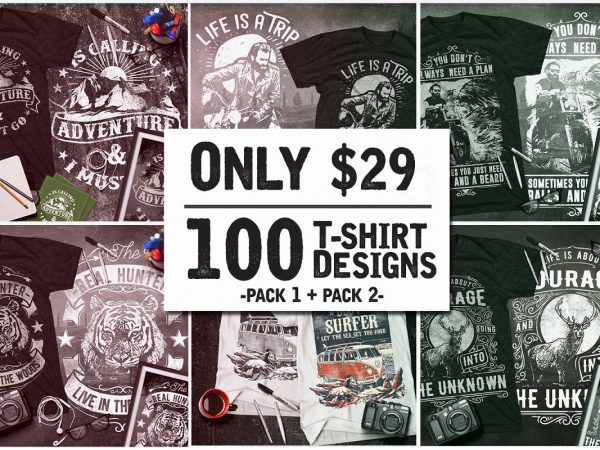 100 T-Shirt Designs Collection
Hurry-up! limited time offer
Are you looking to make your own T-shirts? This mega bundle of T-shirt designs contains 100 premium designs in vector format. Easily scale these illustrations to whatever size you need, as you choose from a wide variety of themes including animals, pin-up girls, inspirational messages and more. Choose what you'd like and whip up some fabulous T-shirts, hoodies and any other kind of apparel you can think of. Delivered as an instant file download, after completing your purchase. The graphic files are delivered as .Ai .Eps and Png formats. Some files come in PSD format.
Instant Digital Download:
Buy this item with your phone or tablet, and access to the files at any time from your computer.
Highlights:
Get your hands on 100 premium T-Shirt Designs in vector format. Scale images up or down to any size you require without losing an ounce of detail. Easily customize any of these designs using the original AI and EPS file formats (NOTE: some files come in PSD format). With just one simple click, change up the colors of your image. Images are perfect to work right onto T-shirts, hoodies or even mugs. Besides apparel, these vectors are perfect for a variety of promotional materials such as flyers, ads, posters and more.
Pricing:
Normally this bundle sells for $876, but you can get all 100 T-Shirt Designs for just $49! That's a big savings of 94% off the regular price.

With an extended license, you can uses these vectors as many times as you'd like for as many personal or commercial projects as you'd like. These high-quality T-Shirt designs cover a wide range of themes including: inspirational messages, animals, cars, patriotic elements and more.