Featured
This item was featured by our team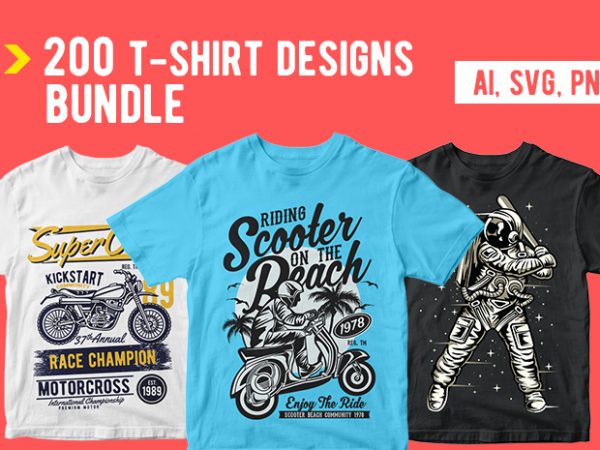 200 T shirt Designs Bundle
Hurry-up! limited time offer
If you're looking for something new in vector T shirt Designs or some cool t-shirt illustrations for your new project we have a unique vector t-shirt design bundle for you, With this 200 t-shirt design bundle you can create unique t-shirt designs, hoodies, hat, pin, posters, invitations, logo or anything…
Instant Digital Download:
Buy this item with your phone or tablet, and access to the files at any time from your computer.









We are Happy To Tell You That We Receive Feedback Like these Every Day!










200 high-quality ready to print t-shirt designs ( Ai, PNG, SVG )
1- PNG files for each design.
2- Fully editable source files
3- Purchased separately, these designs are valued at well over $1900. Get the exact same set with an extended license for only $34!
---
Don't see what you love?
Explore hundreds of amazing vector t-shirt designs to download. Latest T-shirt Designs
Check The Current bundles: T-shirt Bundles






Spend less time designing and more time selling with this ready-made t-shirt designs bundle!
What You will Get in this t-shirt designs bundle :
1: 200 vector t-shirt designs in Ai & Svg & Png.
2: Editable layers and text in Ai files in Adobe Illustrator.
3: Extended license.
4: Layered AI file format. Open the Ai file with Adobe Illustrator and you'll see all layers, you can then replace or delete some layers and customize these designs for your projects. You can edit all texts in Adobe Illustrator. "Fonts included".