Featured
This item was featured by our team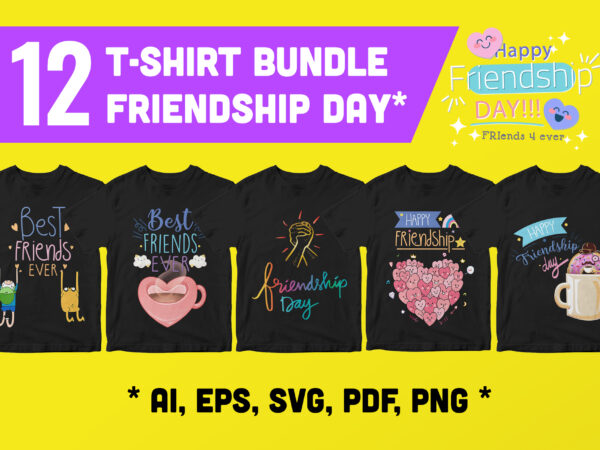 12 SET T-SHIRT BUNDLE DESIGN – HAPPY FRIENDSHIP DAY!!!! BFF
Hurry-up! limited time offer
Friendship Day is an international holiday celebrating friendship. It occurs on different dates in various countries. In the United States it is observed on the first Sunday of August.
12 SET T-SHIRT BUNDLE DESIGN – HAPPY FRIENDSHIP DAY!!!! BFF includes 12 convenient and ready-made t-shirt designs with all of their original source files and artwork. Print your brand quickly and easily and start selling your favorite items from any of these awesome artwork style designs. Note: 12 high-quality ready-to-print t-shirt designs ( Ai, EPS,SVG, PNG, PDF)– Fully editable source filesPurchased separately, these designs are valued at well over $120. Get the exact same set with an extended license for ONLY $16!If you're looking for something new in vector T shirt Designs or some cool t-shirt illustrations for your new project we have a unique vector t-shirt design bundle for you, With this 12 t-shirt design bundle you can create unique t-shirt designs, jacket, hoodies, hat, pin, posters, invitations, logo or anything… BUY NOW!!!!
Instant Digital Download:
Buy this with your phone/tablet, and access to your files at any time from your computer.
Extended Commercial License:
You can resell this artwork in Printed Format Only.
~ Can I sell this on POD platforms? Yes
~ Can I sell it on my own website in printed format? Yes
~ Can I sell it in digital format? No